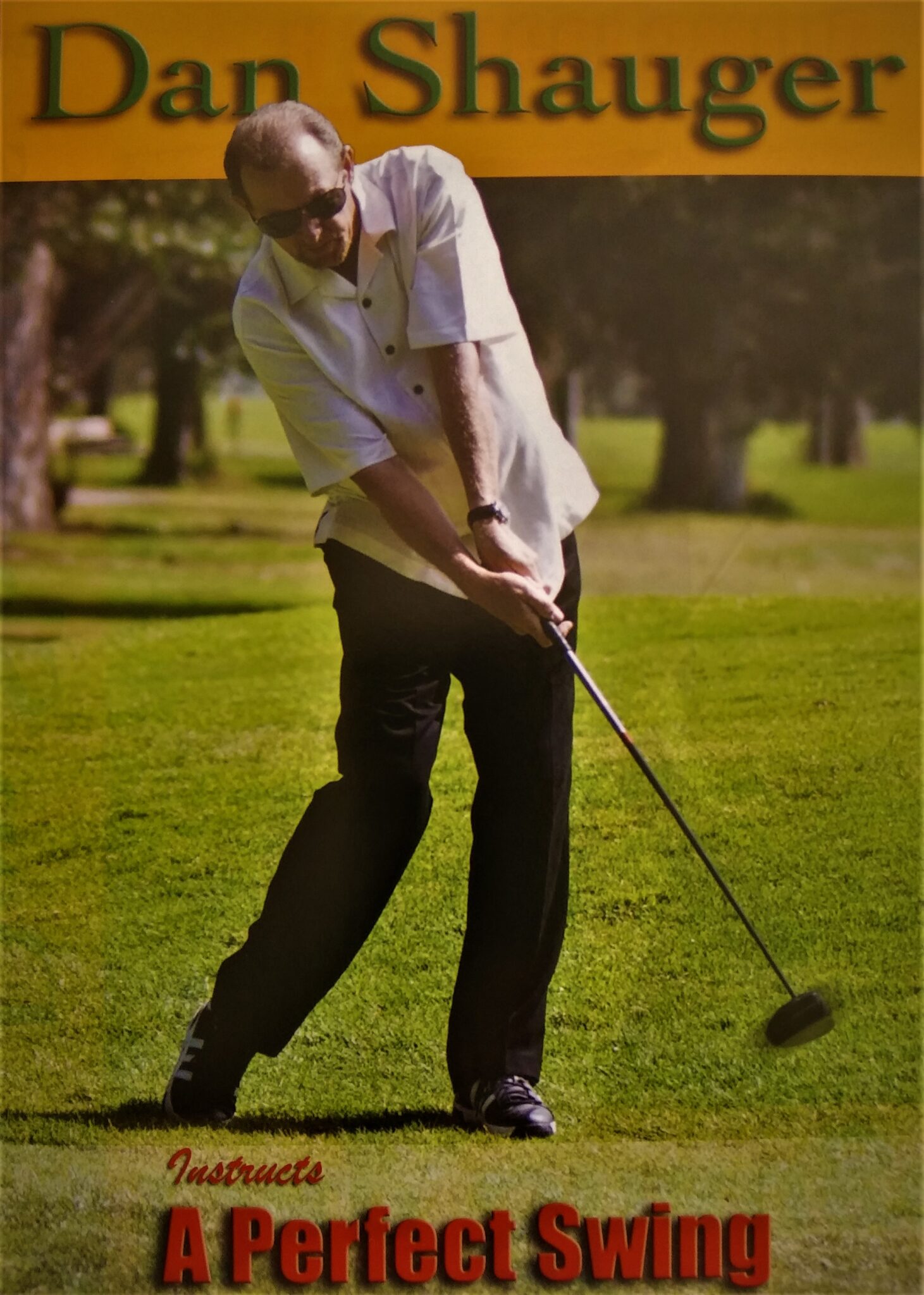 APS (A Perfect Swing) … Learn the Fundamentals of DOWN, UNDER & UP with Our Help.
Daniel R. Shauger,  APS..A Perfect Swing, we provide golf training that gives you "A Perfect Swing." This allows you to gain precise control and dramatically increase the distance of your swing.  This is not the PGA or LIV Golf Swing you're are learning from Daniel with his A Perfect Swing, we are completely different from Whole Golf World. Daniels is the only Master Pro, everybody else are Instructor's of his New Golf Swing. Daniel studied over 150 golf books, and decided to use only two other golf pros in his New Golf Swing. This book is Daniels second book, that he wrote. Myself Elaine Shauger interviewed Mike Austin, I ask him come you don't give Daniel all the steps to the throwing the right arm movement with twirling of the right wrist movement.  Austin said Daniel is a smart man he will get it, so that told me that Austin wanted to die with his golf swing, because the PGA did not pick Mike Austins golf swing. Daniel knows how to do Mike Austin golf swing. But could not put into words. The throwing the right arm movement with twirling of the right wrist movement. So Daniel he had to go back to the golf course and studied the of throwing the right arm movement with twirling of the right wrist movement. It took several months and one day Daniel came to myself Elaine Shauger, Daniel said to me that new how to put into words. Daniel added more parts to the new golf swing. How to "KILL" the Ball is his second book, and has more chapters. And you have to understand this book is in Daniels words not Austin words in the book on the throwing the right arm movement with twirling of the right wrist movement. Thats why Daniel Shauger is the Master of his New Golf Swing. Because it works and we call it the DOWN, UNDER & UP. Elaine needs to set the record straight to all golfer's this is how it went down. There three golf pros, in his book Shauger, Austin and Hogan in the making of book How to "KILL" the Ball Book his second book back in 1/01/2000.
(( I'm going to prove a point to the PGA and LIV Golfers, Look at Daniels picture see he already hit the golf ball, see his right hand going UNDER the shaft in golf swing.
If this was PGA and LIV your right hand would be on top of the shaft in your golf swing))
"We are completely different from the whole golf world."
Elaine M. Shauger 8/22/2022
"Thanks, Dan for teaching GJ this great swing! GJ has risen to the cream of the crop. Look at the tournament results for last week. He beat everyone…all ages. I thought you might like to know that you have one very satisfied customer. Thanks, Dan!!!"
– John G.
"Dan,
Congratulations on completing the 10 DVDs of instruction. I watched each of them enthusiastically. I'm amazed how you get across to your audience everything that you know on the subject for that particular DVD. Your earnestness to help in every way possible comes across. Please accept this handshake across cyberspace on a job well done.
A satisfied customer,"
– Bob Ballard
"Dan,
Very, very, very good. The 10 DVD set is great. There is a ton of info in there. I started golfing over 40 years ago, never had I shot a round in the 70s, this last year I had over 10 rounds in the 70s and that was after only 1 year of your videos. Can't wait to see this year after practicing all winter at the range and working on my swing at home. The videos are great. I can't say enough about it. I really think your idea about you showing people of different levels taking lessons from you would be a great idea. I think it was DVD #6 that showed you helping that one guy. That DVD helped me in a few areas too. I just wanted to thank you. Keep the videos coming, I love them!"
– Richard Moody
"Dan,
Just wanted to say how much I have enjoyed the DVDs and gotten a lot out of them. The only thing I can compare them to is the Austinology tapes. These DVDs make things much clearer and are better than any lessons I have ever had. They are well worth the money. I would advise anyone who really wants to understand the swing to buy these DVDs. Keep up the good work!"
– Rick Boyd
"Dan,
I must tell you how exciting it is to receive your DVDs in the mail. It is really a treat. I usually cannot wait to see what you have in store for us. And after viewing the lesson, I come away having learned something new each time. So, you should know that you are hitting it out of the park. You are a great teacher. What a blessing to have you share with us your thoughts and knowledge about the gold swing. On this thanksgiving season, I am grateful to you and blessed to have you in my life.
Best,"
– Paul
"Dan,
I love it. It sure makes a lot of sense. Thank you for taking the time to do this. I really love the way you are teaching this series. My birthday is October 30, 1957, and I just turned 51 years old. I really like the way you take this in baby steps. You make this very easy to understand. I'm looking forward to meeting you someday in person. I bought this set for myself as a birthday present to myself. I am going to watch this many times over. The part I really liked was how you explained the weight shift. Nobody has ever explained it to me that way before.
Thank you very much,"
– Tom Yazzie
A Golf Book Like No Other
January 24, 2007
- Reviewer: Dr. SE GREEN, Australia
March 9, 2007
"Really helps understand some important aspects of the Mike Austin swing."
- Reviewer: Gaines E. Bruce, Knoxville, TN
The Only Way to Play Golf!
February 8, 2007
- Reviewer: Michael Tillison "Michael", Colorado